Extron DTP T SW4 HD 4K (60-1625-01)
4:1 4K HDMI Switcher with Integrated DTP/HDBaseT Transmitter
4 × HDMI Inputs; 1 × DTP/HDBaseT Output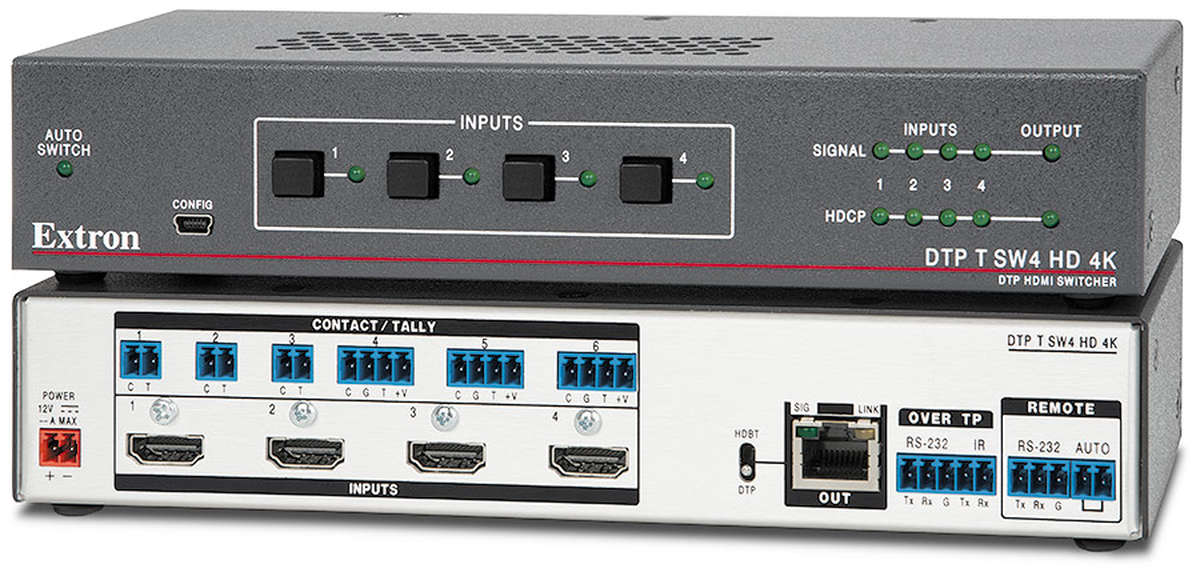 For pricing and configuration options please call or email us.
The Extron DTP T SW4 HD 4K is a four-input switcher for sending HDMI and control signals over shielded CATx cable up to 330 feet (100 meters) to DTP®-enabled products. It supports computer and video signals at resolutions up to 4K. The many integrator-friendly features include EDID Minder®, selectable HDCP authorization, along with bidirectional RS-232 and IR pass-through for remote AV device control. Front panel, RS-232, contact closure, and auto-input switching control capabilities facilitate integration of the DTP T SW4 HD 4K into a wide variety of environments.
The HDCP-compliant DTP T SW4 HD 4K provides reliable switching and transmission of HDMI signals. It can automatically switch among as many as four sources. The DTP output can be configured for compatibility with HDBaseT-enabled displays to send digital video with embedded audio up to 330 feet (100 meters) over a shielded CATx cable.
To simplify integration of devices and to help ensure optimal system performance, the DTP T SW4 HD 4K features EDID Minder. EDID Minder is an Extron-exclusive technology that manages EDID communication between the display device and input sources to ensure that the correct video formats are displayed reliably.
The DTP T SW4 HD 4K automatically adjusts Colour bit depth based on the display EDID to prevent Colour compatibility conflicts between a source and the display. Front panel LED indicators provide immediate visual confirmation of HDCP authentication and signal presence for each input and the output. If HDCP-encrypted content is transmitted to a non-compliant display, a full-screen green signal provides immediate visual confirmation that protected content cannot be viewed on that display.
The switcher supports simultaneous transmission of bidirectional RS-232 and IR signals over CATx cable for AV device control. For added installation flexibility, it can supply power to a DTP-enabled receiver over the shielded twisted pair cable. This simplifies installation and allows both devices to share one power supply. The DTP T SW4 HD 4K can be integrated with an Extron DTP CrossPoint® presentation matrix switcher and other DTP-enabled products to support sources at remote locations.
Convenient control options include front panel control, RS-232, and contact closure with tally output. Configuration of the DTP T SW4 HD 4K is made simple with Extron's PCS - Product Configuration Software with a user-friendly GUI that is very easy to navigate. This software application allows for expedited setup and commissioning, real-time operation and monitoring, plus the ability to configure several units in the same session.
Extron recommends Extron-certified XTP DTP 24 shielded twisted pair cable, shielded RJ-45 plugs, jacks, and couplers engineered for optimum signal transmission with Extron DTP Series products. The XTP DTP 24 cable is certified to 475 MHz and utilizes a SF/UTP design with four unshielded 24 AWG twisted pair conductors inside an overall braid and foil shield for superior performance and noise immunity.
Extron DTP T SW4 HD 4K Key Features
Transmits HDMI plus control up to 330 feet (100 meters) over a shielded CATx cable

-

The DTP T SW4 HD 4K provides high reliability and maximum performance on an economical and easily installed cable infrastructure.

Inputs: Four HDMI

-

Allows for switching between four video sources.

Output: One DTP® 330 twisted pair output on RJ-45

Auto-switching between inputs

-

Auto-switching allows for simple, unmanaged installation in locations such as in a lectern or under a conference table.

Supports computer and video resolutions up to 4K

Remote powering of DTP receiver

-

For simplified installation, the transmitter can supply power to a DTP receiver over the twisted pair connection.

Extron XTP DTP 24 shielded twisted pair cable is strongly recommended for optimal performance

Compatible with CATx shielded twisted pair cable

-

Shielded twisted pair cabling with solid centre conductor sizes of 24 AWG or better is recommended for optimal performance.

Supported HDMI specification features include data rates up to 10.2 Gbps, Deep Colour up to 12-bit, 3D, and HD lossless audio formats

DTP output is compatible with HDBaseT-enabled devices

-

The DTP output can be configured to send video and embedded audio, plus bidirectional RS-232 and IR signals to an HDBaseT-enabled display.

Supports multiple embedded audio formats

-

The DTP T SW4 HD 4K is compatible with a broad range of multi-channel audio signals, providing reliable operation with HDMI sources.

Bidirectional RS-232 and IR pass-through for AV device control

-

Bidirectional RS-232 control and IR signals can be transmitted alongside the video signal, allowing remote AV devices to be controlled without the need for additional cabling.

HDCP compliant

-

Fully supports HDCP-encrypted sources, with selectable authorization for unencrypted content.

User-selectable HDCP authorization

-

Allows individual inputs to appear HDCP compliant or non-HDCP compliant to the connected source, which is beneficial if the source automatically encrypts all content when connected to an HDCP-compliant device. Protected media is not passed in non-HDCP mode.

EDID Minder® automatically manages EDID communication between connected devices

Automatic input cable equalization to 50 feet (15 meters) when used with Extron HDMI Pro Series cable

-

Actively conditions incoming HDMI signals to compensate for signal loss when using long HDMI cables, low quality HDMI cables, and source devices with poor HDMI signal output.

HDCP authentication and signal presence confirmation

-

Provides real-time verification of HDCP status for each digital video input. This allows for simple, quick, and easy signal and HDCP verification through front panel LEDs, RS-232, or USB, providing valuable feedback to a system operator or helpdesk support staff.

HDCP Visual Confirmation

-

When HDCP-encrypted content is transmitted to a non-HDCP compliant display, a full-screen green signal is sent to the display for immediate visual confirmation that protected content cannot be viewed on that display.

Output muting control

-

The video and audio output may be muted independently.

HDMI to DVI Interface Format Correction

-

Automatically enables or disables embedded audio and InfoFrames, and sets the correct Colour space for proper connection to HDMI and DVI displays.

Automatic Colour bit depth management

-

The DTP T SW4 HD 4K automatically adjusts Colour bit depth based on the display EDID, preventing Colour compatibility conflicts between source and display.

Front panel security lockout

-

This feature locks out all front panel functions; all functions however, are available through USB or RS-232 control.

Compatible with all DTP 230 and DTP 330 Series receivers, and DTP-enabled products

-

Enables mixing and matching with desktop and wallplate receivers, as well as other DTP-enabled products to meet application requirements.

RS-232 control port

-

Enables the use of serial commands for integration into a control system. Extron products use the SIS™ - Simple Instruction Set command protocol, a set of basic ASCII commands that allow for quick and easy programming.

Contact closure remote control with tally output

-

Allows for remote selection of an input channel, while a tally output provides +5 VDC to light an LED to indicate the currently selected input. The contact and tally ports may be configured for independent use when the DTP T SW4 HD 4K is connected to an external control processor.

Compatible with TeamWork® Show Me® Cables

-

Show Me cables provide convenient connectivity and user input selection and control for TeamWork Collaboration Systems. Visit the TeamWork System Builder to create a customized system for your collaboration environment.

Front panel USB configuration port

-

Provides convenient access for information and firmware updates.

LED indicators for signal presence, HDCP, and power

-

Provides visual indication of system status for real-time feedback and monitoring of key performance parameters.

RJ-45 signal and link LED indicators for DTP port

-

Provides a means for validating signal flow and operation, allowing quick identification of connectivity issues.

Easy setup and commissioning with Extron's PCS - Product Configuration Software

-

Conveniently configure multiple products using a single software application.

Rack mountable, 1U half rack width metal enclosure

Includes LockIt® HDMI cable lacing brackets

External Extron Everlast™ power supply included, replacement part #70-1174-01

-

Provides worldwide power compatibility with high-demonstrated reliability and low power consumption

Extron Everlast Power Supply is covered by a 7-year parts and Labour warranty