Kramer CRS-FIBERH-S1 Cables
Fibre Optic HDMI Cables
Kramer CRS-FIBERH-S1 Cables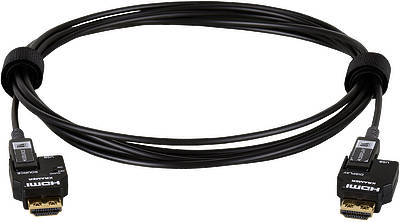 The Kramer CRS-FIBERH-S1 is a pure fiber high-speed HDMI pluggable cable specially designed for security applications. CRS-FIBERH-S1 contains pre-stored EDID values making a DDC channel unnecessary and audio select. It has a low risk of EMI and RFI (Electromagnetic and Radio Frequency Interference) and provides a very high level of signal security over copper and hybrid HDMI cables.
High-Speed Active Cable -

10.6Gbps bandwidth delivers up to 4K@60Hz (4:2:0) resolution.

High-Level Signal Security -

Cable limits signal to one-way transmission.

Pre-defined EDID.
HDMI Support -

deep colour and x.v.Colour™, 5.1/7.1 lossless Dolby® TrueHD and DTS-HD Master Audio®. Note: HDCP, CEC, HEAC and ARC are not supported.

High-quality construction -

24K gold–plated, corrosion–resistant connectors for best possible connectivity. Pull–resistant K–Lock™ with 15 lbs of restraining force. 4xMM fiber in a 3.4mm TPU jacket.

Plug & Play operation.
Control Over Audio on /Audio off operation.