Kramer CLS-AOCH/UF Cables
Fibre Optic HDMI Cables
Kramer CLS-AOCH/UF Cables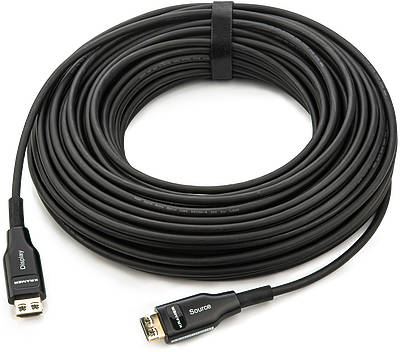 The Kramer CLS-AOCH/UF is an innovative active hybrid optical HDMI cable for sending 8K signals up to 30 meters (98 ft).
CLS-AOCH/UF is thinner, lighter and more flexible than most of the copper or even standard optical cables. It offers transparent EDID and HDCP support with no signal attenuation and reduced risk of EMI and RFI interference.
Video Resolution -

Up to 4K@120, 8K@60Hz (4:2:0).

High Data Transfer Rate -

Up to 48Gbps.

Embedded Audio -

PCM 8–channel, Dolby Digital True HD and DTS–HD Master Audio.

HDMI Support -

HDCP 2.2, HDR, EDID, eARC, and DSC as specified in HDMI 2.1.

High–Quality Connectors -

24K gold–plated, corrosion–resistant and best possible connectivity.

Reduced EMI & RFI.
Thin Construction -

4.5mm diameter.

Jacket Construction -

Low smoke & halogen free.

REACH RoHS 2011/65/EU, CE, FCC, compliant.
Varied Selection of Lengths -

Available in versions from 10 to 30m (33 to 98ft).
| Product | Description | Price | Inc. VAT |
| --- | --- | --- | --- |
| Kramer CLS-AOCH/UF-33 | 10.0m Ultra High-Speed 8K HDMI Optic Hybrid Cable (LSHF; Max. 48Gbps 8K@60Hz) | £153 | £183.60 |
| Kramer CLS-AOCH/UF-50 | 15.2m Ultra High-Speed 8K HDMI Optic Hybrid Cable (LSHF; Max. 48Gbps 8K@60Hz) | £174 | £208.80 |
| Kramer CLS-AOCH/UF-66 | 20.0m Ultra High-Speed 8K HDMI Optic Hybrid Cable (LSHF; Max. 48Gbps 8K@60Hz) | £196 | £235.20 |
| Kramer CLS-AOCH/UF-98 | 30.0m Ultra High-Speed 8K HDMI Optic Hybrid Cable (LSHF; Max. 48Gbps 8K@60Hz) | £217 | £260.40 |
| Kramer CLS-AOCH/UF-131 | 40.0m Ultra High-Speed 8K HDMI Optic Hybrid Cable (LSHF; Max. 48Gbps 8K@60Hz) | £259 | £310.80 |
| Kramer CLS-AOCH/UF-164 | 50.0m Ultra High-Speed 8K HDMI Optic Hybrid Cable (LSHF; Max. 48Gbps 8K@60Hz) | £289 | £346.80 |
| Kramer CLS-AOCH/UF-197 | 60.0m Ultra High-Speed 8K HDMI Optic Hybrid Cable (LSHF; Max. 48Gbps 8K@60Hz) | £331 | £397.20 |
| Kramer CLS-AOCH/UF-230 | 70.0m Ultra High-Speed 8K HDMI Optic Hybrid Cable (LSHF; Max. 48Gbps 8K@60Hz) | £379 | £454.80 |
| Kramer CLS-AOCH/UF-262 | 80.0m Ultra High-Speed 8K HDMI Optic Hybrid Cable (LSHF; Max. 48Gbps 8K@60Hz) | £416 | £499.20 |
| Kramer CLS-AOCH/UF-295 | 90.0m Ultra High-Speed 8K HDMI Optic Hybrid Cable (LSHF; Max. 48Gbps 8K@60Hz) | £476 | £571.20 |
| Kramer CLS-AOCH/UF-328 | 100.0m Ultra High-Speed 8K HDMI Optic Hybrid Cable (LSHF; Max. 48Gbps 8K@60Hz) | £531 | £637.20 |