Glossary: COMPOSITE
Composite is - as the name suggests - a combination of the luminance and chrominance elements of a video signal into one wire.
Composite is sometimes referred to as CVBS which is an acronym for "Colour, Video, Blank and Sync", "Composite Video Baseband Signal", "Composite Video Burst Signal" or "Composite Video with Burst and Sync".
With projection and large screen systems composite should be used as a last resort as other standards (S-Video, RGB, component) give a significantly better signal to noise ratio.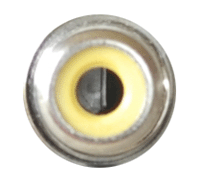 Composite Socket