Celexon UHD Fibre Optic Cables
Fibre Optic HDMI Cables
Celexon UHD Fibre Optic Cables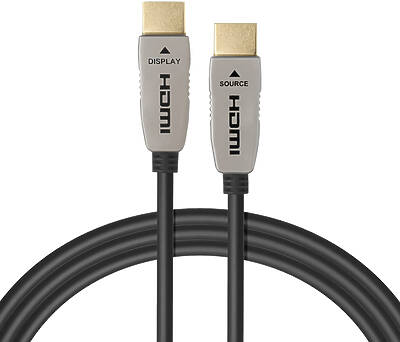 Celexon's Optical Fibre HDMI 2.0b Active Cables are the solution when 100% reliable data transmission over long signal paths is required.
The integrated signal converter in the transmitter of the cable transforms the electrical HDMI signal of the source into light pulses, which are transmitted via the fibre-optic cable to the receiver (plug) and converted back to an electrical HDMI signal. Thanks to the optical transmission, external interference caused by radio or magnetic fields is no longer an issue. The cable has dimensions like a classic HDMI cable and is only larger on the plug. The converter technology is completely integrated in the plugs.
Celexon's Optical Fibre HDMI 2.0b Active Cables support image resolutions up to 4K-UHD (4X full-HD resolution) with a refresh rate of 60Hz and 4:4:4 colour sub-sampling at 8bit and a bandwidth up to 18, 2 Gbps and a max. possible colour depth of 16bit.
The 24k gold-plated HDMI connector prevents oxidation of the plug contacts and thus always ensures optimum transmission. In addition, our high quality plug ensures the best fit of the contacts and prevents wobbling or slipping out of the HDMI interface.
Colour: Black
HDMI optical signal transmission for long signal paths
Supports HDMI version 2.0b with 18.2Gbps & HDCP version 2.2
Signal transmission absolutely insensitive to external interference
4K60HZ 4: 2: 0 for 8bit / 10bit / 12bit / 16bit; 4K60HZ 4: 2:2 for 12bit; 4K60HZ 4:4:4 for 8bit
HFR 3D compatible up to 1080p
Supports High Dynamic Range (HDR)
Supports HLG (Hybrid Log Gamma)
Up to 32 audio channels for multi-dimensional, immersive audio experience
Up to 1536 kHz audio sampling for the highest sound quality
Supports "Wide Angle Theatrical 21:9 Video" format
Supports CEC-commands
Including Audio Return Channel (ARC)
High quality gold plated plug (corrosion protection and best conductivity)
Extremely flexible (over 90 ° with 30mm bending radius) and easy to lay
No additional power supply necessary
EVERY CABLE is tested with ATC certified test equipment